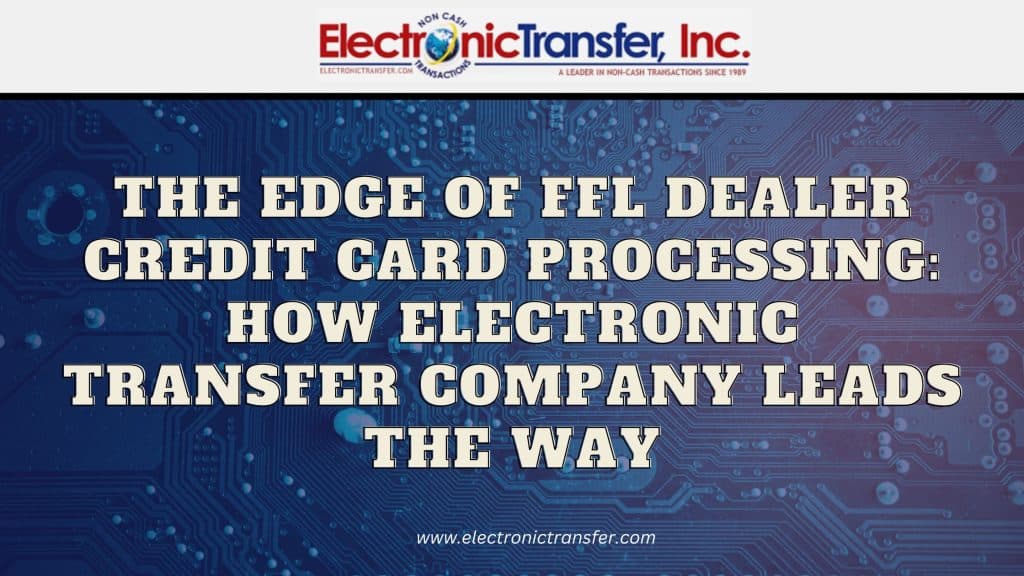 In the fast-paced world of firearm sales, having a seamless and secure credit card processing system is essential for Federal Firearms License (FFL) dealers. With strict regulations and the need for quick transactions, FFL dealers require a specialized payment processing solution tailored to their unique needs. 
The Electronic Transfer Company has emerged as a leader in ffl dealer credit card processing, providing a competitive edge to businesses in the firearms industry. This article explores the distinctive advantages of Electronic Transfer's credit card processing for FFL dealers.
Compliance and Security: Navigating the Complexities of Firearms Sales
FFL dealers operate in a heavily regulated industry, with compliance being a top priority. The Electronic Transfer Company profoundly understands the complex rules and regulations surrounding firearm sales, ensuring its credit card processing solutions meet all necessary compliance standards.
Electronic Transfer Company's FFL dealer credit card processing allows businesses to facilitate transactions while staying within legal boundaries. The company employs cutting-edge security measures, including encryption, tokenization, and fraud detection tools, to safeguard sensitive customer information and ensure secure transactions.
Moreover, the company's expertise in the industry means that it can provide comprehensive support and guidance to FFL dealers, helping them confidently navigate the intricacies of firearm sales regulations.
Streamlined Transactions: Speed and Convenience
In the world of firearm sales, time is of the essence. FFL dealers require a credit card processing system that is not only secure but also fast and efficient. Their advanced technology allows for streamlined transactions, reducing customer wait times and optimizing the buying experience.
Their payment processing solutions are designed to handle high transaction volumes, enabling FFL dealers to take peak sales periods easily. With quick authorizations and seamless integration with point-of-sale (POS) systems, Electronic Transfer empowers FFL dealers to process payments swiftly and efficiently. Their user-friendly interfaces make it easy for merchants and customers to complete transactions, providing a smooth and convenient experience that fosters customer loyalty.
Tailored Solutions: Meeting the Specific Needs of FFL Dealers
Every FFL dealer operates differently, and more than a one-size-fits-all approach to credit card processing may be needed. Electronic Transfer Company recognizes this, which is why they offer tailored solutions that cater to the specific needs of FFL dealers.
Their customizable payment processing options allow FFL dealers to choose the features and services that align with their business requirements. Whether it's recurring billing, mobile payments, or e-commerce integration, Electronic Transfer can provide a comprehensive suite of solutions for any firearm sales operation.
Furthermore, Electronic Transfer's customer support team works closely with FFL dealers to understand their unique challenges and goals. This personalized approach ensures FFL dealers receive the best payment processing solution to optimize their business operations.
In the competitive world of firearm sales, having the right ffl dealer credit card processing system can make all the difference. The Electronic Transfer Company stands at the forefront of FFL dealer credit card processing, offering a range of distinctive advantages that give FFL dealers the edge they need to succeed.
From ensuring compliance with industry regulations to providing secure and efficient transactions, Electronic Transfer's solutions are designed to meet the specific needs of the firearms industry. With a commitment to security, speed, and customization, Electronic Transfer empowers FFL dealers to elevate their payment processing experience and focus on what matters most – serving their customers and growing their businesses.
Invest with the Most Trusted, Electronic Transfer.