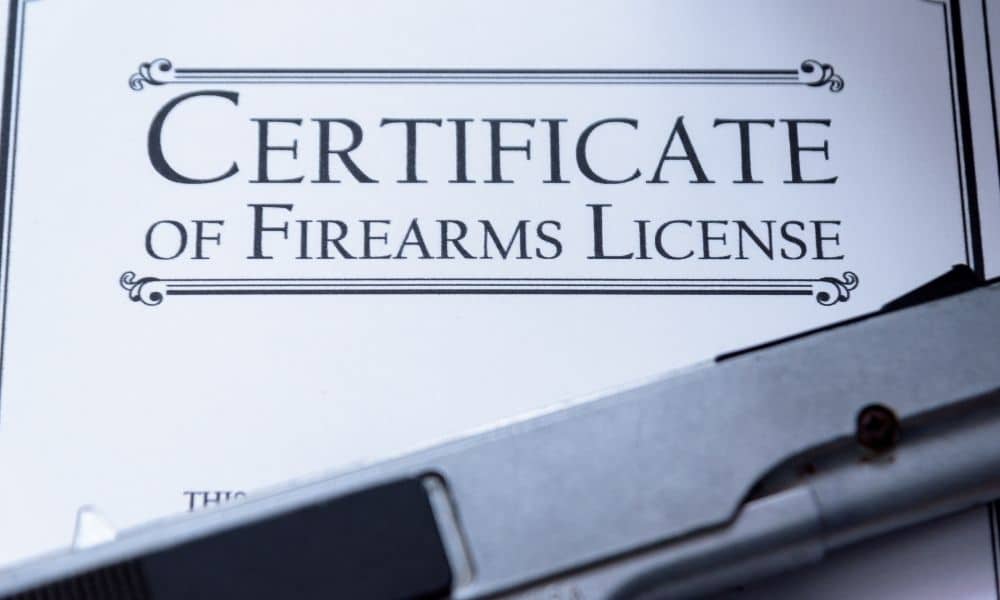 Getting a Federal Firearms License is not as tricky or intimidating as it seems. With a good plan, diligence, and patience, you'll be well on your way to getting your LLC a federal firearm license. Here's the step-by-step process on how to get a Federal-Firearm License for your business. 
What Is an FFL?
A Federal Firearm License (FFL) allows individuals to engage in the business of buying, selling, or manufacturing firearms and ammunition. FFLs are regulated by The United States Bureau of Alcohol, Tobacco, Firearms, and Explosives (ATF), an office in the Department of Justice (DOJ). There are nine types of federal firearm licenses, but the ATF classifies the licenses from Type 01 to Type 11.
Obtaining your FFL is urgent if you want to have an FFL license for your business. If you aren't licensed, you can face a fine of up to $250,000, up to five years in prison, or, in some cases, both.
It's essential to get a license; even if your business sells firearms over the internet or at occasional gun shows, the ATF still considers that as being in the firearm dealing business. You'll need to have an FFL if you're planning on selling firearms with the end goal of making a profit. However, you don't need an FFL if you're purchasing ammunition or firearms for your collection.
Here's a list of who would need to obtain an FFL:
If you advertise yourself as a firearms dealer.
If you constantly buy or sell firearms.
If you're regularly restocking your firearm inventory and acquiring a large amount of the same firearm.
If you're trying to make a profit from purchasing or selling firearms.
Different Types of FFLs:
01: Dealer in firearms other than destructive devices; firearm repair.
02: Pawnbrokers and dealers of firearms.
03: Collectors of relics and curios; this license is non-professional, allowing you to buy more curios and relic firearms, but you cannot sell firearms.
06: Manufacturers of ammunition only.
07: Manufacturers of firearms and ammunition.
08: Dealers and importers of firearms.
09: Dealers of destructive devices.
10: Manufacturers of destructive devices, ammunition for destructive devices, or armor-piercing ammunition
11: Importers of firearms, ammunition, or armor-piercing ammunition.
The cost of acquiring and applying for an FFL depends on the license type.
Here's each license application fee:
01: $200
02: $200
03: $30
06: $30
07: $150
08: $150
09: $3,000
10: $3,000
11: $3,000
Who Is Eligible for an FFL?
Before applying for your business's federal firearm license, you need to make sure you and your business are eligible and meet the requirements for an FFL.
Individual Requirements To Obtain an FFL
Here are the individual requirements for obtaining an FFL:
Must be a United States citizen.
Must be at least 21 years old.
Must be legally authorized to possess a firearm and ammunition.
Must NOT have violated the Gun Control Act and its regulations.
Must have included all truthful information and statements on the FFL application.
Must possess a physical business location for conducting business.
You must also confirm that:
The business you conduct under the FFL license is legal under state or local law.
The company must follow state and local law requirements before making sales.
The applicant must notify the local area's chief law enforcement of their plans to apply for an FFL.
The firearm business must have secure and safe firearm storage.
The business must comply with all state and local laws within 30 days after the approved application.
Business Requirements To Obtain an FLL
In addition to the requirements above, your business must meet the basic needs before obtaining a firearm license.
You must register your business with your state—business license, employer ID number, etc.
Your business must be in the proper location; the location requirements depend on your state laws.
How To Get a Federal Firearms License for Your Business
Make Sure You're Eligible
Before you apply for your FFL license for your business, you want to make sure you meet all the requirements. Review the requirements above to ensure you're qualified for an FFL. Reviewing these requirements will help you avoid wasting your time trying to obtain the license when you're not permitted. While you're checking if you are eligible, think about which license you want to acquire.
Take the Online Class
Make sure to do your research and choose a certified FFL class. The online class is not required, but it will help you fully understand the firearm license and laws. You can access advice from a licensed firearms attorney by taking the course and an industry expert who can advise you about ATF and the inside of the firearms industry.
The online class can help you stay up-to-date with the latest laws, and some courses offer training for you and your employees.
Complete ATF FFL Form
After taking the online class, locate the FFL form on the ATF website. Take your time, fill out all required information on the form, and pay the application fee.
If it's your first time completing this application, you must complete part B of the application, which is the "Responsible Person Questionnaire." This questionnaire will make sure you are eligible to receive an FFL. This part of the application will ask you about your previous relationship with FFLs, if ATF has ever denied you or, if you've obtained an FLL before.
Submit Your Application
When you're ready to submit your application, look through all your information and ensure you didn't leave anything out. Once you review your information, you can mail in your application. The FFL application is main-in only, while the ATF allows electronic submission on some firearm forms. After you submit it, the Firearms Licensing Center (FFLC) will review your form thoroughly and make sure your information is correct.
Background Check & Interview Process
Once the application is submitted, the FFLC will enter your applicant information into its database and review all your application materials. This process will examine your fingerprint card and photographs for all applications (except for Type 03).
The FFLC will also administer a background check on all applicants and send your application to your nearest ATF office for the business's location. You will have an in-person interview with an Industry Operations Investigator at your nearest ATF location. During this interview, you will talk about your application to ensure all the information is correct and up-to-date and complies with state, federal, and local firearm laws.
The Industry Operations Investigator will then write a report about your interview process and give FFLC their answer, whether they accept or deny your application. The ATF supervisor will review the investigator's report and submit their response.
The entire process takes about 60 days. So, before you commit to getting your FFL, make sure you review the information above and understand how to get a Federal Firearms License for your business. 
Being a high-risk business makes it hard to find account services and trustworthy payment providers. Once your company has its federal firearm license, you'll want to find a trustworthy high-risk FFL merchant account service like Electronic Transfer Inc. 
Contact Electronic Transfer today to learn more about we can reduce stress and help your business triumph.