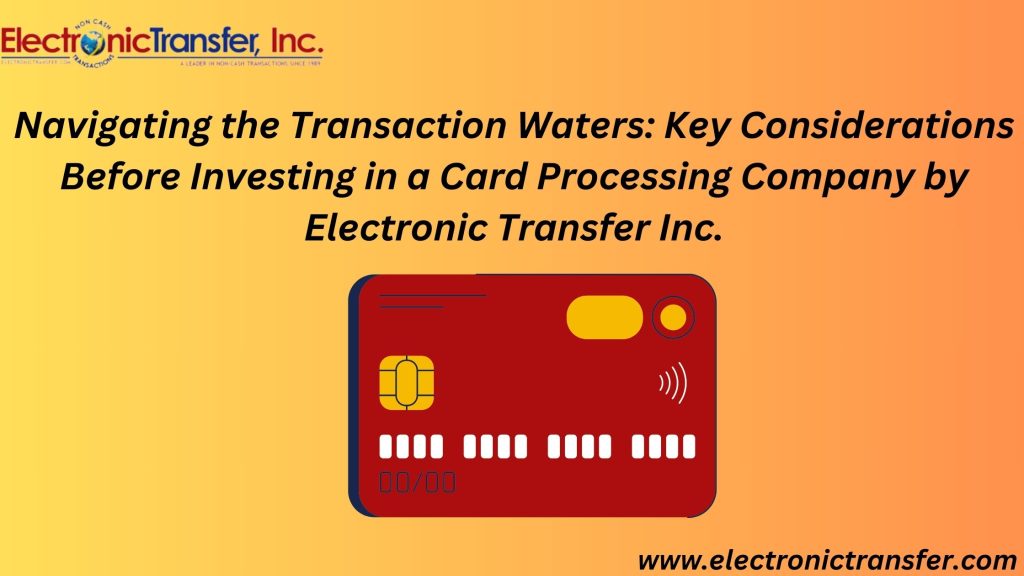 Investing in a card processing company is a strategic move in the dynamic world of finance and technology. Electronic Transfer Inc., a leading name in the industry, offers valuable insights into the considerations potential investors should consider. This article explores three key factors that can shape your decision to invest in a card processing company.
Technological Infrastructure: Assessing the Powerhouse Behind Transactions
Electronic Transfer Inc. emphasizes the importance of evaluating the technological infrastructure of a card processing company before making any investment decisions. In the digital age, the efficiency and security of transactions heavily rely on advanced technology. Consider factors such as the company's payment gateway, data security measures, and compatibility with emerging technologies.
Investors should inquire about the scalability and flexibility of the card processing platform. Electronic Transfer Inc. places great emphasis on innovation and staying ahead of technological advancements to meet the evolving needs of businesses. A robust technological foundation ensures seamless transactions and positions the company for growth in a rapidly changing market.
Compliance and Security: Building Trust in Financial Transactions
Electronic Transfer Inc. underscores the critical importance of compliance and security in card processing. Before investing, carefully scrutinize the company's adherence to industry regulations and security standards. Compliance with the Payment Card Industry Data Security Standard (PCI DSS) is non-negotiable, ensuring customer data is handled securely and confidentially.
Investors should seek a card processing company that exceeds regulatory requirements to instill client trust. Electronic Transfer Inc. prides itself on its commitment to data security and compliance, implementing robust measures to protect sensitive information. A company prioritizes security, mitigates risks, and attracts and retains clients in an era where data breaches are prevalent.
Market Trends and Growth Potential: Anticipating the Future of Payments
Staying ahead of market trends and identifying growth potential is a cornerstone of successful investments, according to Electronic Transfer Inc. Before committing funds, investors should analyze the card processing company's position in the market, its response to emerging trends, and its strategies for future growth.
Electronic Transfer Inc. recommends assessing the company's adaptability to changing consumer behaviors, such as the increasing demand for contactless payments and mobile wallet integration. Understanding how the company positions itself in the broader financial technology landscape is crucial for predicting its trajectory. A forward-thinking card processing company, like Electronic Transfer Inc., embraces current trends and anticipates future shifts in payment preferences.
Investing in a card processing company requires carefully examining various factors to ensure a wise and strategic decision. Electronic Transfer Inc. encourages potential investors to focus on the technological infrastructure, compliance and security measures, market trends, and growth potential.
By considering these essential aspects, investors can confidently navigate the transaction waters, aligning their investments with a card processing company that is well-positioned for success in the ever-evolving landscape of electronic payments.
Invest with the Most Trusted Electronic Transfer