Let's explore why Electronic Transfer Inc. stands out as the best Firearm Merchant Account provider. In this article, we will explore three key aspects that make Electronic Transfer Inc. a top choice for businesses in the firearms industry.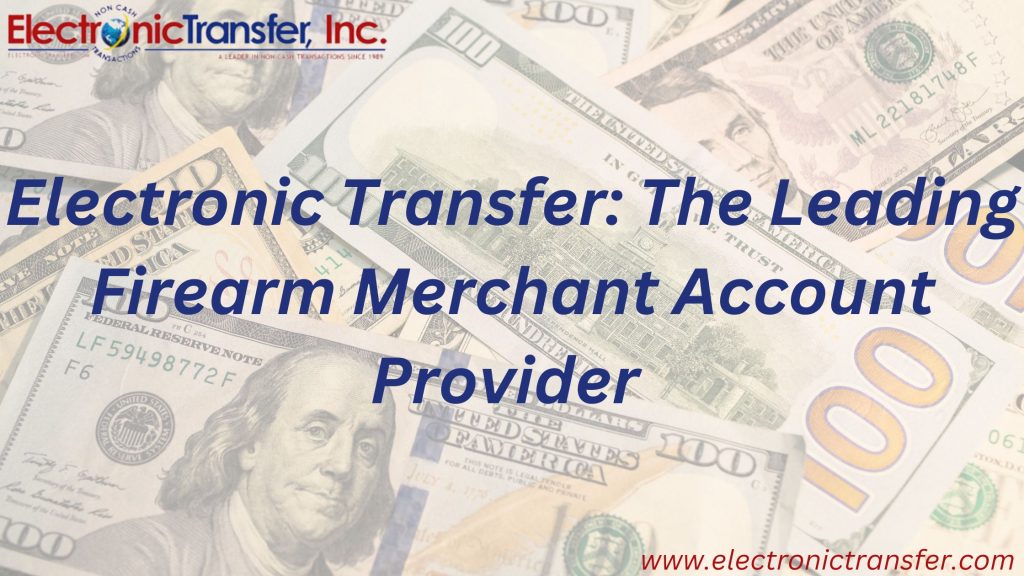 Security and Compliance: Ensuring Safe Transactions
Electronic Transfer Inc. has established itself as a leader in the financial industry by prioritizing security and compliance. Regarding firearm merchant accounts, these two factors are of utmost importance. The company's robust security measures ensure that every transaction is safe and secure, giving peace of mind to both merchants and customers.
With a keen understanding of firearms's unique regulatory landscape, Electronic Transfer Inc. has developed a system that ensures compliance with all federal and state laws. This is crucial for businesses dealing with firearms, as any compliance issues can lead to serious legal repercussions. By choosing Electronic Transfer Inc., merchants can be confident that their operations align with all relevant regulations.
Tailored Solutions for Firearm Businesses
One size doesn't fit all, especially in the firearms industry. Electronic Transfer Inc. recognizes this and offers tailored solutions to meet the specific needs of firearm businesses. Whether you're a small gun shop or a large distributor, their merchant account options will suit your requirements.
One notable feature is their flexibility in payment processing. They understand that the firearms industry may have unique challenges, such as high-risk transactions. Electronic Transfer Inc. has the expertise to navigate these challenges and provide seamless payment processing solutions. This ensures that businesses can accept payments efficiently, in-store or online while reducing the risk of chargebacks.
Exceptional Customer Support: A Partnership You Can Rely On
Electronic Transfer Inc.'s commitment to exceptional customer support is a crucial factor that sets it apart. For businesses in the firearms industry, having a reliable partner is essential. The company's dedicated support team is well-versed in the intricacies of firearm merchant accounts. It is available to assist merchants every step of the way.
Electronic Transfer Inc. prioritizes communication and responsiveness from the initial setup to ongoing support. This support fosters a strong partnership between the company and its clients. Merchants can rely on Electronic Transfer Inc. to address their concerns promptly, allowing them to focus on growing their firearms business.
Electronic Transfer Inc. is the top choice for firearm merchant accounts due to its unwavering commitment to security, compliance, tailored solutions, and exceptional customer support. Choosing Electronic Transfer Inc. means selecting a partner who understands the unique needs of the firearms industry and has solid experience in helping businesses thrive safely and competently.
For firearm merchants, the choice is clear: Electronic Transfer Inc. is the best option for a secure and efficient payment processing solution.
Invest with the Most Trusted Electronic Transfer.