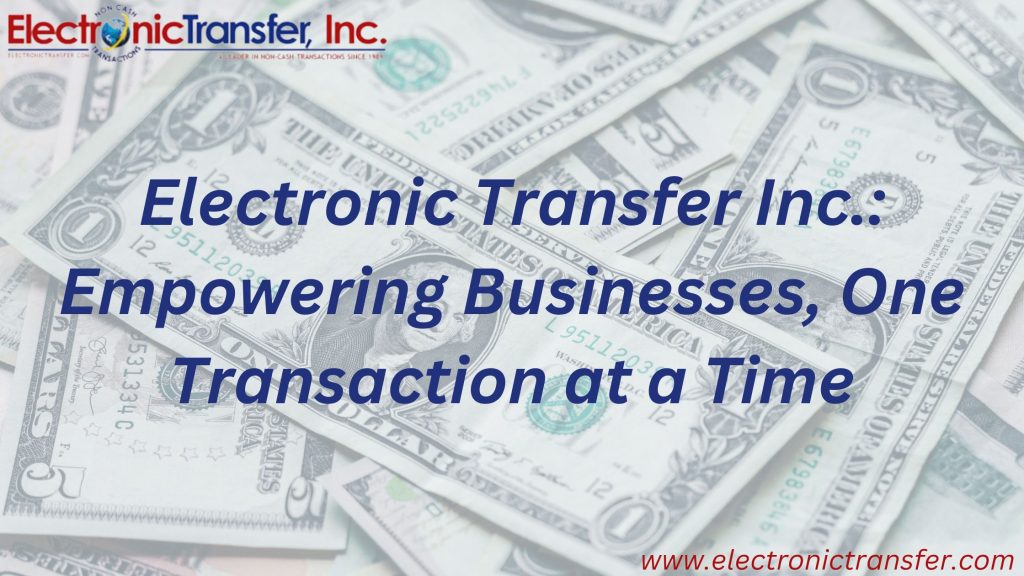 In the digital age, every transaction is more than just a financial exchange; it's a story of growth, innovation, and empowerment. At Electronic Transfer Inc., we don't just provide payment solutions like FFL Merchant Services; we empower businesses to thrive and succeed. As we embark on the journey of 2023, let's explore the world of Electronic Transfer Inc. and the transformational impact we bring to businesses.
Pioneering Payment Solutions
Where Innovation Meets Convenience: Electronic Transfer Inc. isn't just a payment processing company; it's a pioneer in delivering innovative payment solutions. In 2023, we continue to redefine the way businesses handle transactions. Our cutting-edge technology and comprehensive payment services offer unparalleled convenience to both merchants and customers.
Seamless Payment Experience: What sets us apart is the seamless payment experience we provide. Whether you run a small business or a large enterprise, our solutions adapt to your needs. From secure card processing to mobile payment options, we offer diverse services designed to simplify the payment process for businesses of all sizes.
The Heart of Trust and Security
Built on Trust: At Electronic Transfer Inc., trust is the cornerstone of our business. We understand that companies rely on us to safeguard their financial transactions. In 2023, we will continue to uphold the highest security standards, ensuring you are protected from potential threats for every transaction.
Data Protection Matters: Our commitment to data protection remains unwavering in an era of data breaches and cyber threats. We employ state-of-the-art security measures to safeguard sensitive information, providing businesses and customers peace of mind. Your data's security is our top priority.
Your Success, Our Mission
Tailored Solutions for Growth: How we contribute to your business's success truly touches our hearts. At Electronic Transfer Inc., we don't offer one-size-fits-all solutions. We tailor our services to meet your unique business needs, whether e-commerce, point-of-sale systems, or recurring billing. Your growth is our mission.
Building Lasting Partnerships: In the heart of 2023, we celebrate the lasting partnerships we've forged with businesses worldwide. Every successful transaction isn't just a momentary exchange; it's a step toward mutual growth and prosperity. With Electronic Transfer Inc., you're not just a client but a valued partner.
As we navigate the digital landscape of the year ahead, Electronic Transfer Inc. remains at the forefront of empowering businesses. Every transaction we facilitate isn't just a payment; it's a testament to the potential for growth and success. Your business deserves a partner that understands your needs and empowers your journey.
Your success is our mission, and your satisfaction is our greatest reward. In 2023, let's empower your business to thrive and succeed. Choose Electronic Transfer Inc. – Where Empowerment Transforms Transactions, One Business at a Time.
Invest with the Most Trusted Electronic Transfer