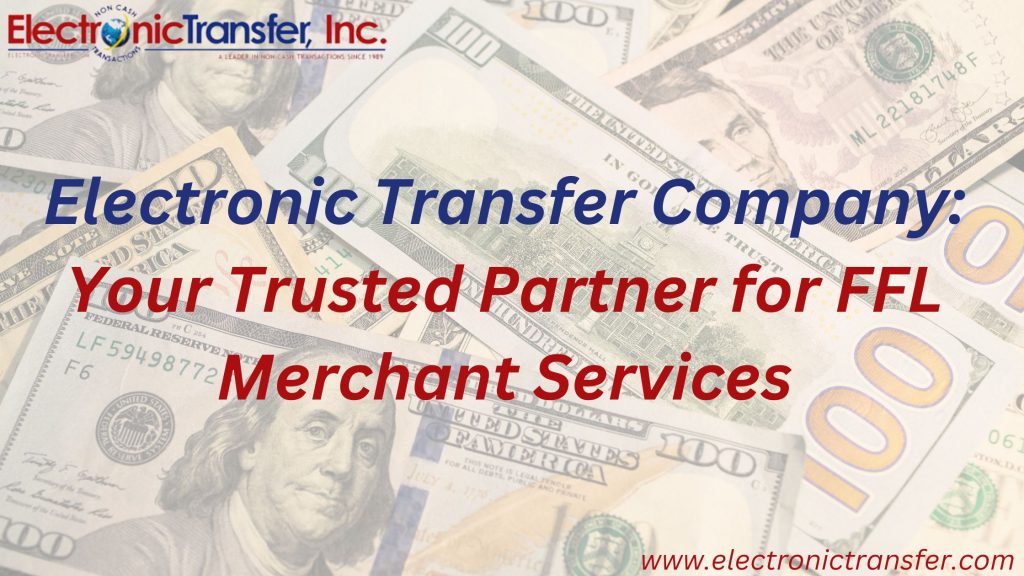 Regarding FFL (Federal Firearms License) Merchant Services, Electronic Transfer Company stands out as a reliable and competent partner. In this article, we'll delve into what sets Electronic Transfer Company apart and why it should be your first choice for FFL Merchant Services.
Expertise in FFL Payment Processing
Electronic Transfer Company profoundly understands FFL dealers and businesses' unique needs and challenges. Their expertise in FFL payment processing is unparalleled. The company is well-versed in the regulations and compliance requirements specific to the firearms industry, ensuring that FFL holders can confidently and securely process payments.
In an industry where compliance is of utmost importance, Electronic Transfer Company provides solutions that meet and exceed the rigorous standards set forth by federal and state authorities. Their knowledge and experience in FFL payment processing make them a trusted partner for firearm dealers and businesses across the United States.
Secure and Efficient FFL Payment Solutions
Security and efficiency are paramount when it comes to FFL transactions. Electronic Transfer Company is committed to providing state-of-the-art payment solutions, prioritizing both aspects. Their secure payment processing systems safeguard sensitive customer information and protect FFL holders from potential risks.
Moreover, Electronic Transfer Company's solutions entail efficiency. They understand the need for quick and seamless transactions in the firearms industry. Their technology ensures that FFL dealers can process payments swiftly, providing a streamlined experience for the business and its customers.
Electronic Transfer Company has earned a reputation for competence and reliability in FFL Merchant Services. When you choose Electronic Transfer Company for your FFL payment processing needs, you're selecting a partner well-versed in the intricacies of the firearms industry and dedicated to providing secure and efficient solutions.
Electronic Transfer Company remains the trusted choice for FFL holders in an industry where regulatory compliance and security are paramount. Their expertise and commitment to excellence in FFL payment processing make them the go-to destination for businesses looking to ensure compliance while efficiently managing transactions.
Suppose you're in the firearms industry and require FFL Merchant Services that are both competent and secure. In that case, Electronic Transfer Company stands as the ultimate partner. With their extensive knowledge and dedication to the unique needs of FFL holders, they continue to lead the way in providing efficient and reliable payment processing solutions.
Invest with the Most Trusted Electronic Transfer.